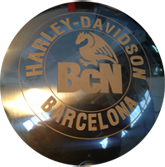 By laser engraving can be customized items that values ​​with a name, logo, personal reason, dates, etc..
Using the laser beam scanner and digital tracking can effect any Engraving both flat areas (2D), and slanted or curved areas (3D).
Type of material: gold, silver, bronze, titanium, steel, iron, aluminum, copper, graphite, etc.
GALERY